Here is a great opportunity to learn from one of the best. Over the last twenty years Charlie has developed teaching methods that have proven to be very effective. In addition to personalized instruction, Charlie has traveled the country judging and presenting seminars at state and national shows. Whether a beginner or a taxidermist wanting to quickly improve, this one-on-one training is the fastest way to mastering bird taxidermy.
"I learned in two weeks what would have taken me five years on my own"
Rick Carr | Lainsgsburg, MI
"Superb presentation...great for developing bird taxidermists"
Breakthrough Magazine's description of Charlie's World Show seminar
Unlike other instruction, you will be taught bird taxidermy "from the ground up". This includes learning to make your own manikins, which have many advantages over commercial bodies. Unfortunately, manikin making is becoming a lost art even though it is essential to reaching the higher levels of bird work. Charlie's techniques are simple, straight- forward and demonstrated by many students to be easy to learn.
A one-week course will cover all aspects of bird taxidermy including skinning, fleshing, washing, mounting, and finishing. You can expect to be taught according to your experience and skill level. A firm basis in fundamentals will be emphasized. These include: leg, wing, and eye set, basic anatomy, balance, and the use of reference material. You will also be shown how to bring the whole piece together into an artistic composition. Advanced students will have the option of studying such subjects as mold making and casting, habitat construction, oil painting, and complicated poses such as a flushing bird.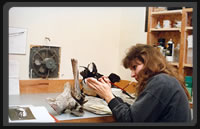 Beginning students need no experience. How ever, a little experience will move things along faster. Students who already mount birds are asked to bring with them, if possible, a mount or two so Charlie can assess priorities for improvement. Tools and materials will be provided. Over one week the average person can expect to mount both an upland bird and a waterfowl. Turkey training, due to its unique nature, will be treated as a separate course. Specimens can be brought by the student or will be provided for a small charge.
The method of teaching will have Charlie mount a bird along side the student. As the instructor moves through the process, the student will proceed with his/her own specimen, step by step. After the first bird, Charlie will oversee the process, allowing the student to work at her own pace. Manikin making will be emphasized and additional time will be set aside to practice this skill.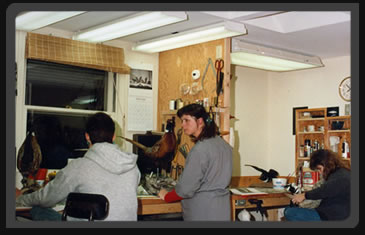 The schooling takes place in a clean and comfortable studio. A well lit workspace, aided by a large skylight and a satellite radio system makes for an enjoyable atmosphere. The studio is located in a beautiful country setting yet is twelve minutes from the center of the college town of East Lansing and twenty minutes from the Lansing airport.
Daily sessions will run approximately eight hours and lunch will be provided. You will have access to the studio in the evenings should you have the energy.
Students are responsible for their own transportation, meals other than lunch, and lodging. Lodging can be arranged at a choice of nearby motels.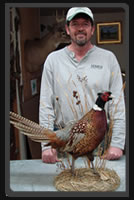 Beginning students are encouraged to train for at least one week, with two weeks greatly aiding the development and retention of the skills taught. Experienced taxidermists who want to improve their work may want to choose a shorter length of stay.
In the spring or early summer, a turkey seminar will be held. In this two day class Charlie will mount a strutting tom, demonstrating and explaining his unique techniques step by step. Attendees will actually make a strutting turkey manikin and hand paint their own turkey head. The seminar will take place over a long two-day weekend and be limited to four participants. Lunch is included. If interested please call early to reserve a spot. One on one turkey training will be available throughout the year.
| | | |
| --- | --- | --- |
| PRICES | 2 day session | $750 |
| | 3 day session | $1050 |
| | 1 week | $1500 |
| | 2 weeks | $2600 |
| | 2 day turkey seminar | $400 |
Your session will be confirmed with a 50% refundable down payment.